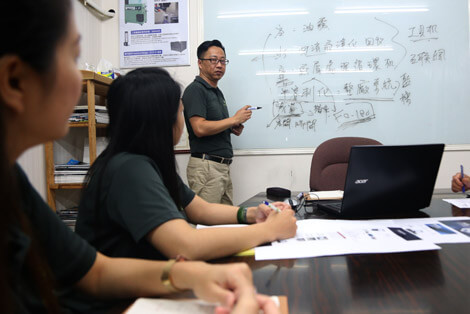 ・About Us
Green Eco Pro Co., was established in 2011 ,located in Taichung. The engineering team is comprised of experts in Environmental Engineering, Mechanical & Electrical Technology, Industrial Design, and Labor Safety / Health Management. Our philosophy : Our expertise provides our customers with a continuously clean coolant solution.
Green Eco Pro has put forth efforts in developing technologies in waste oil-water separation for many years.
We have been awarded patents for T.P.M., S.T.P.M., and Skimmer technologies to resolve problems of flotation, settling, filtration, and coagulation caused by waste oil.
Our latest engineering provides the CNC machine industry a solution for purifying coolant, which results in continuous clean cutting fluid.
We have the capabilities to provide our customers customized solutions to serve their individual needs.
---
Green Eco Pro high-performance cutting fluid purification machine, different from the traditional disctype and strip oil-water separator, the physical way, does not change the original concentration of cutting fluid, patented technology can greatly enhance the efficiency of oil and water separation.
Green Eco Pro, the product applicable to all kinds of CNC milling machine, lathe, gantry type, turning and milling complex, multi-axis machining center, the central processing facilities. Safe and reliable; without any supplies, exclusive patent, 24 hours continuous operation. In recent years in the major machine tool plant and metal processing industry received wide acclaim.
Mechanical design
with aesthetic
Green Eco Pro
Technology above industry
Be based on Professional R &D team and innovation concept.